All Entries
Replica of an Egyptian boomerang
|
Jul
03
2021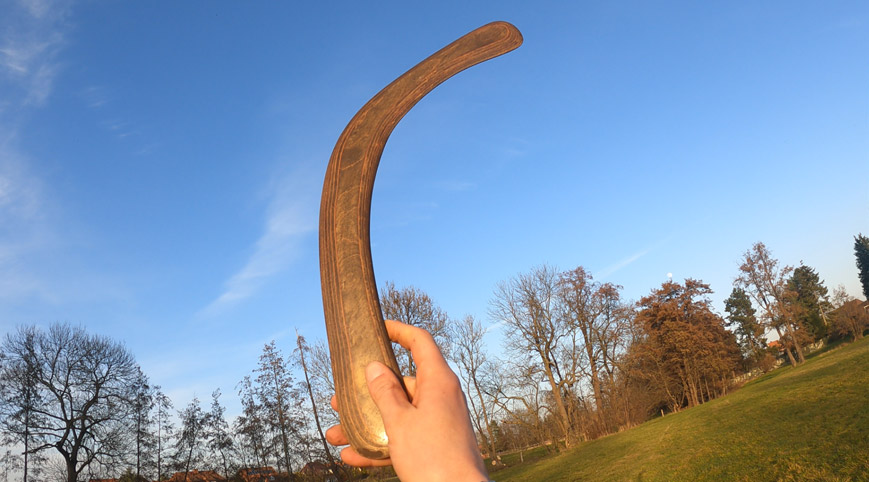 Boomerangs have been an integral part of global cultures for thousands of years. This is borne out by the "lucky finds" of specimens such as those in the Netherlands, Germany, Egypt, etc. Normally, no wood "survives" for so long without damage, which is due to the climatic conditions. In addition, not everyone is an expert who could possibly see more in a piece of wood. However, the situation is different for the Egyptian boomerangs, which were contained in the pyramid of Tut anch Amun. In addition to countless throwing sticks, numerous boomerangs in various forms were also discovered here. The very good condition is astonishing. In addition, you can clearly discover the typical boomerang profile. https://www.flight-toys.com/boomerang/collectable/n90.html
Because of the very well preserved template, we decided to also recreate this Egyptian boomerang, but on a slightly larger scale. Otherwise, shape and profile should remain the same. It is less important to us whether you can catch this boomerang. It would simply be important to see whether he was flying a bow. In terms of profile, he would definitely have to do that.
Here you can see the result.
In the following it can be said that an extensive boomerang culture was also present in North Africa in particular. You can also see that a lot of different forms existed. https://rediboom.de/afrika/ In view of new weapons and developments, however, as in other parts of the world, with the exception of isolated Australia, the importance slowly declined.