Intern
Buy a boomerang in the shop – manufactory / manufacturer Royal Wing Boomerangs
|
Jun
29
2022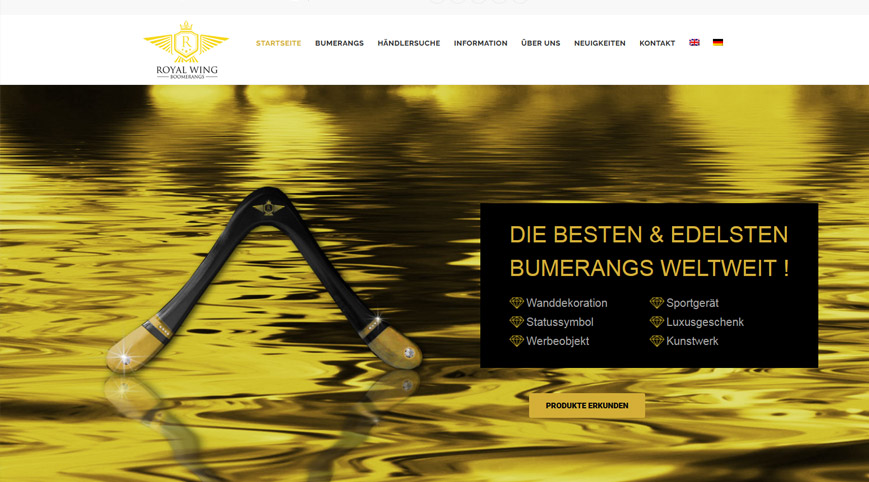 Buy a boomerang in the Royal Wing Boomerangs shop
Nice that you want to buy a boomerang and found it on our homepage. Here in the shop we offer you a large selection of excellent products for high demands. Whether you are a beginner or an experienced professional, everyone can find what they are looking for here in our manufactory. Above all, you can be sure that you are buying a truly flyable, quality product with return capabilities.
Active in development, construction and casting for over 35 years
The founding of Royal Wing Boomerangs is no wonder given the fascination with this great pastime that continues to this day. Every free minute was used to develop the best boomerangs out of wood. This passion and attention to detail can be found in almost every boomerang that you can buy in our shop.
History of throwing sticks and boomerangs
Unfortunately, a lot of misinformation about the history of boomerangs has been and still is being propagated. It would go beyond the scope to list everything again here. Take a look at our accompanying video. History video or here in text form boomerang history
quality has its price
Boomerangs are also often related to apples and pears. Many factors influence the quality and ultimately the price. There are a few things you should know before deciding for or against a boomerang.
– Boomerangs with edges and intricate shapes are much more complex to produce because more manual work is required.
– for better protection, boomerangs are usually oiled. However, this step is often skipped due to time constraints.
– Varnishes with a lot of solvents dry quickly, but are dubious from an ecological point of view. We therefore use water-based paints. However, drying is slower, which makes production more time-consuming.
– the logo is not quickly painted on, but lasered and colored.
– Every boomerang is tried out beforehand (as a ready-cut blank) and caught after a return flight.
– the special wood is expensive, which is why large boomerangs like those from Royal Wing are correspondingly more expensive than small models from other manufacturers.
etc.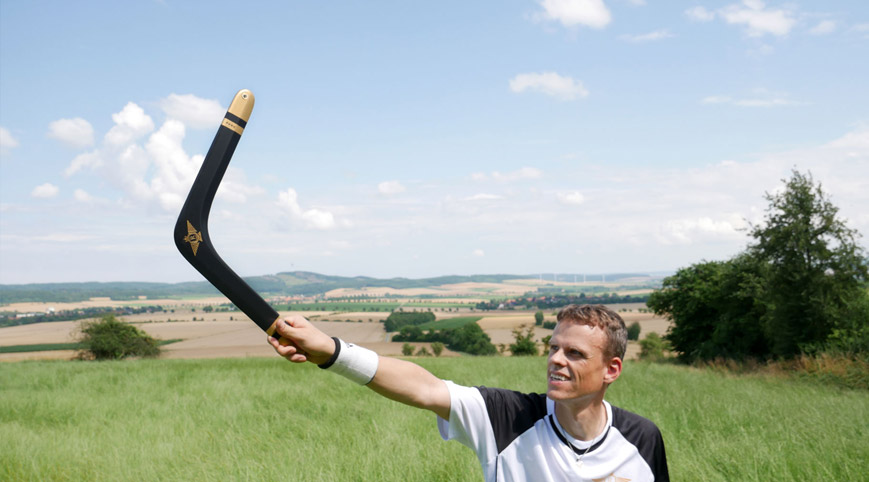 Premium boomerangs and real luxury boomerangs
In our shop we distinguish between "premium boomerangs" and real "luxury boomerangs". The difference is easy to explain, because the premium boomerangs are in the price segment up to approx. 300 EUR, while the luxury boomerangs with real gold, jewels etc. can be bought from 2999 EUR.
See premium boomerangs ( soon available ) 
Luxury Boomerangs Collection 1
Luxury Boomerangs Collection 2
Usable as a gift, wall decoration, prize, marketing tool, …
The boomerangs from our manufactory can be used in many ways because of their special quality. In addition to the actual main purpose as sports equipment, you will also find use as a noble gift, wall decoration, award and advertising purposes.
Not everything that looks like a boomerang comes back
Especially online in various shops you can also buy many boomerangs, which come back badly or not at all. One can only warn against this, because beginners in particular quickly lose interest in this great hobby. You can recognize this most by the following criteria.
– extremely cheap price
– Country of origin Asia
– inferior wood with few layers
– bad ratio of size, shape and weight
– the boomerang has only slightly rounded front edges and no sloping edges
Sports equipment for adults instead of children's toys
In our eyes, boomerangs are basically sports equipment for adults. Only soft and very light specimens may be suitable for children. Even the smallest wooden boomerang can be dangerous due to its speed, rotation and weight. Especially when it literally catches the eye. Use is always at your own risk and requires responsible use.
Why isn't the boomerang coming back?
There can be many reasons why a boomerang does not come back. See above. But even copies from quality manufacturers do not come back automatically. Maybe it's because:
– The throwing technique is wrong, also tilt angle, wind angle and horizon angle. The so-called sickle throw, in which the boomerang pulls up steeply and then crashes, is particularly common.
– The boomerang has warped due to improper storage. However, this can be counteracted by slight bending (tuning).
– As a left-hander you throw a boomerang for right-handers and vice versa.
– Throwing when the wind is too strong or gusty.
All of our boomerangs are pre-tested for flight characteristics, so it CANNOT be the boomerang itself if it doesn't return. Check out our instructional videos. For example throwing and catching boomerangs correctly.  If the problem still persists, please contact us via our contact form
After buying our boomerangs in the shop, we also recommend visiting our YouTube channel.  Don't forget to subscribe.