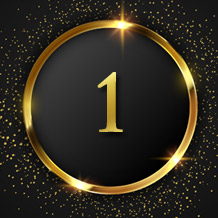 In this category you will find luxury boomerangs with different designs, which not only look different, but also have completely different flight characteristics. Including specimens that can be thrown by beginners as well as advanced or experts. All boomerangs are part of a spectacular overall concept that has never been seen in this form before. Only the best materials are used, such as high-quality and multi-layered plywood (far better than solid wood), gilding with real gold, high-quality gemstones, solid frame with many gold-plated metal parts (which also looks as good at the back as the front), leather bag made of real leather and many more details. This includes the camouflage pattern on the back of the boomerang, the white training boomerang, which is attached to the back of the frame.
A little note about the gemstones, because people like to make wrong comparisons. We use Moissanite gemstones. These are the best available diamond substitutes, because they have almost the same hardness (9.5 while diamonds have 10) and can hardly be distinguished optically. The reflections are even more colorful. But what is the value now?
There are many factors that make a moissanite stone a relatively worthless or valuable stone. Mainly using the 4C rule, i.e. Clarity, Color, Cut and Carat. The rarer and higher the quality, the exponentially higher the price. In addition, there are other factors such as the existence of a certificate, who issued the certificate, how the stone was made (in the case of synthetic gemstones) and where the country of origin is located. The Moissanite gemstones we use are among the best and are hand selected. You will also receive a certificate from the internationally recognized IGI (International Gemological Institute) for the 2 carat stones.
More informations about quality you find here over this LINK.