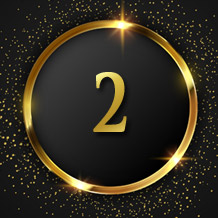 In this collection you will also find a wide variety of luxury boomerangs for beginners, advanced and experts. All copies are part of a spectacular overall concept that combines valuable materials with innovative ideas. For example, real leather, real gold for the gilding, high-quality Moissanite gemstones, solid wood for the frame, multi-layered plywood (solid wood is worse for building boomerangs), …
Again, the note that we always pay attention to many details in order to achieve the highest possible quality. The boomerang wood comes from renewable resources from Europe (no tropical wood), the lacquer contains only a few solvents and can even be used for children's toys. There is a serial number on the boomerang in gold for identification, the logo is engraved and not only painted, there are certificates for the 2 carat gemstones, etc.
It is important not to incorrectly compare the gemstones with one another. There are many factors that can lead to a worthless or valuable gemstone. This includes the purity, the cut, the color, the weight, the certificate, the place of origin, the manufacturing method (for synthetic stones), etc. We only use very high quality and hand-selected premium gemstones for our boomerangs.
More informations about quality you find here over this LINK.