Other
Warning. Not everything that is crooked actually comes back!
|
Jul
03
2021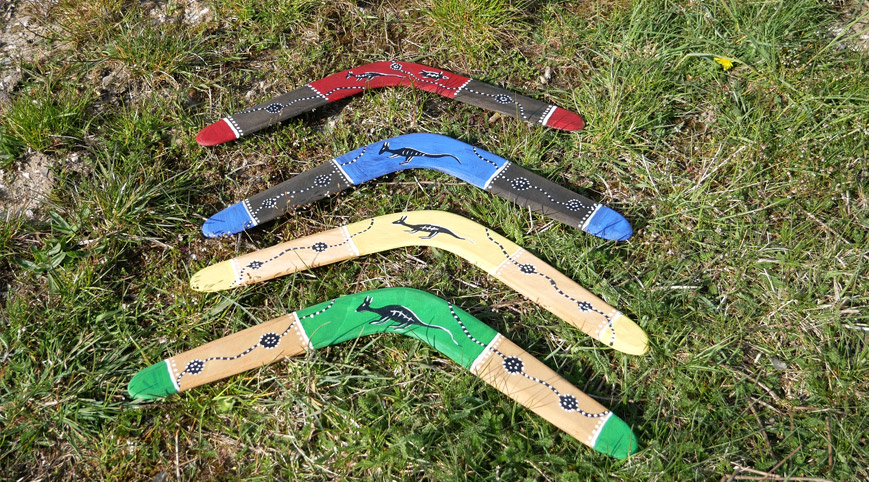 Sometimes it is unbelievable what boomerangs sometimes came and come into the trade. You can throw these pseudoboomerangs, just you just don't bring them back. Ultimately, this is no wonder, because it is actually always due to incorrect profiling. You have to know that the boomerang arms basically work like wings on an airplane. They create buoyancy. There is a rounded front edge and a slanted edge. In addition, the arrangement of the second wing must be exactly the opposite. However, there are several factors why a bought boomerang might not work.
– A right-handed boomerang is incorrectly sold as a left-hand boomerang, or a left-handed boomerang as a boomerang for right-handers. Due to the incorrect description, one is almost misled. So you can not move the boomerang to return.
– Plastic boomerangs are produced in bulk, whereby the plastic is hardly given time to cool down. As a result, the boomerang warps hopelessly. Even by bending tuning, you can hardly make a correction.
– The right ratio between size and weight is incorrect. Some boomerangs are heavy like lead, which makes it very difficult to return. This is often due to the material, because there are also very heavy woods, or the thickness is too strong.
– The boomerang has only end edges all around, which were probably only made with the milling machine. Goes fast, but a boomerang can only fly straight.
– The profiling was not worked out properly. In this case, too little buoyancy is generated, so that the boomerang no longer manages the complete return.
You do not have such problems with Royal Wing boomerangs, because each specimen is tested beforehand as a profiled blank. If he masters the return and is caught, then he can be processed into the end product. If it still doesn't work for you, then you should take a look at our boomerang guide for correct use.
Conclusion: Not everything that is crooked and made of wood inevitably comes back. Royal Wing boomerangs in any case.